Brynnleigh loves to do book reviews - she gets so excited every time we get a new one! So the MINUTE Whatever Wanda arrived in the mail she had to get her hands on it!
About the book:
32 pages
Whatever Wanda, is the third title in the Shine Bright Kids series! The Shine Bright Kids series provides children and their families with the tools to teach the importance of making good choices. The series explores such topics as: using good judgment, taking responsibility, having a positive attitude, and demonstrating perseverance.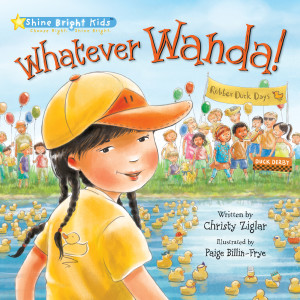 Wanda is in serious need of an attitude adjustment! She doesn't want to accompany her family to the Rubber Duck Days Festival, and once there, she won't participate in any of the events or join in with her friends. Soon Wanda receives some helpful advice and learns that:

"Sometimes you have to believe something will be great before it actually is. Being positive is a choice that makes everything better, not to mention, a whole lot more fun!"

About the author:
Christy Ziglar, financial planner, mother of twins, and niece of legendary motivator and the world's original optimist, Zig Ziglar, is bringing the same timeless wisdom and ageless advice to an entirely new, younger audience through her Shine Bright Kids picture book series. Christy, her husband, and their twins live in Atlanta, Georgia.

About the illustrator:
Paige Billin-Frye lives with her husband in Washington, D.C., where she gardens and grows food in her city yard. She has illustrated numerous children's books and works in a studio over a neighborhood hardware store. Coincidentally, Paige has amassed a collection of rubber duckies of all sizes across the years.
You can find the other titles of the
Shine Bright Kids
series HERE.
Brynnleigh and I read this book right before bed and we both loved it. It is super cute with great illustrations to keep little ones entertained. There is a bit of repeat where it says "Whatever" and Brynnleigh loved "reading" that with me. There is also a cute little star you have to find on each page.
This is a great books for kids - it teaches you that your attitude can make or break an experience. This is perfect for my house because Brynnleigh's older brother, Owen is at the age where not everything is fun...at least until he gets there. It may hit home to some adults too, it's very easy to get wrapped up into all the negative vs. the positive.
Brynnleigh has been asking me to read this book to her over and over again - so it is definitely a hit in our house!
Now it's your turn to win a copy for yourself! Pretty easy and simple - just comment below who you would like to win this book for, and if you follow me on FB (or just started) leave another comment that you are a follower! This is open to US and Canada only.
"Disclosure (in accordance with the FTC's 16 CFR, Part 255: "Guides Concerning the Use of Endorsements and Testimonials in Advertising"): Many thanks to Propeller Consulting, LLC for providing this prize for the giveaway. Choice of winners and opinions are 100% my own and NOT influenced by monetary compensation. I did receive a sample of the product in exchange for this review and post.
Only one entrant per mailing address, per giveaway.
If you have won a prize from our sponsor Propeller / FlyBy Promotions in the last 30 days, you are not eligible to win. Or if you have won the same prize on another blog, you are not eligible to win it again. Winner is subject to eligibility verification."