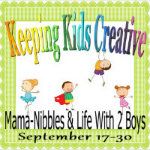 I'm so excited to be a part of another great Blog Hop Giveaway which will take place September 17-30th, hosted by
Mama Nibbles
and
Life with Two Boys
. This event, Keeping Kids Creative is in correlation to "Keep Kids Creative Week" which takes place the last week in September.
My kids LOVE anything creative, whether it's arts and crafts, legos, train tracks, or just plain out imaginary play, so I knew this would be perfect for our family.
I still have a few openings for a few more sponsors if you would like to sponsor me in this hop. It is a great way to advertise your company and product. Their are over 95 other blogs participating and each blog will link back to my giveaway page with your company information. I will post a sponsor spotlight post right before the even goes live, and will do a review of the giveaway product if you would like as well.
Blogger friends, you can still sign up to participate through August 31st! Just go
HERE
to sign up.
Now onto the good stuff....as of today I have two awesome sponsors....
Copy-Kids
has graciously offered to sponsor The BOAT and will be giving away a copy of their incredible DVD "Eat Fruit and Vegetables" and a cute wooden fruit and vegetable play set! (Over $40 value)
Kelly Kits
has also graciously offered to sponsor The BOAT and will be giving away an annual subscription to their monthly craft program that is mailed directly to your door! (Over $99.00 value)
I will have reviews and more details to come...
If you too want to sponsor The BOAT, please contact me via
email
or shoot me a FB or Twitter message!