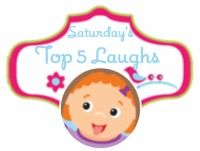 I have been trying to get back to these posts and something always seems to get in my way. This post is one of my favorites to do, I really want to remember the crazy things my kids and husband do...it's too easy to forget!
So I'm linking up with
The Mommyhood Chronicles
...
5. Owen has been in awe of the Olympics...he watches it all day every day. His favorite has been gymnastics...before it aired on TV he was all about me signing him up to take lessons. Then a few days later (after seeing on TV) he told me he didn't want to take gymnastics anymore. Why....his response "Momma, I just can not flip and jump with ALL of THOSE PEOPLE watching me" I'm still trying to explain to him that he won't have as big of a crowd as the Olympians!
4. We had the Olympics on and they were showing boxing, B starts hollering at the screen "Piderman piderman" yep, she thought the red boxer was spiderman!
3. Owen was playing with a new little girlfriend for the first time, when it was time for her to leave they hugged bye, and he looked at her and very seriously said "you're still my new best friend right?"
2. Brynnleigh is infatuated with Cinderella "Rella" as she calls every Princess....I've started painting her toenails (the only way I can trim her toenails) and she calls them "Rella toes"...every time she is sock less, she points to her toes "Rella toes Mommy, I got Rella Toes!"
1. A while back Troy & I were at Busch Gardens, near the end of the day we were sitting down eating and there was this crazy squirrel...well a whole table of teenage girls were also watch this squirrel. As he walked away they were laughing at him and one said "Oh, he's so cute!". Troy looked directly at the table of girls, pretended to blush and responded "Awe thanks!" I about died laughing...the girls kinda laughed and left (I think they weren't sure if he was serious or not) and Troy looked at me and said "That's so going on the blog isn't it!"